Quite a buzz has been created about the Skateboarding events in the 2020 Summer Olympics. In this article we will examine how this all came together and what skateboarders and highlights to be looking out for in the 2020 Olympics.
Since it was announced that skateboarding will be an official olympic sport in this years summer Olympics there has been a sense of wonderment around the skateboard community around the world. How did this happen? How have we finally been able to get to this point in the history of skateboarding?

We will look at these questions in this article. While not alot has been relased as of yet about the what skateboarding events will be happening in the Tokyo Summer Olympics, we will share with you what we do know, and much more in this article.
It's a sport of constant reflex and actions and recreations and reactions! That kind of goosebump entertainment that is expressed with art and athleticism! Modern Skateboarding has developed into one of the most unique displays of art and athleticism on the planet today and many are excited about the 2020 Olympics, but how did all of this come together?
Skateboarding is On a Roll:
Back in 2009, the skateboard market became a huge international sport responsible for almost 5 Billion Dollars in yearly revenue! BANG!!
There are nearly 12 Million active Skateboarders around the world. So there will be plenty of people tuning in to cheer on their country and their favorite skateboarders during the 2020 Summer Olympics in Tokyo.
The legacy & history of Skateboarding:
The history of skateboarding dates back over fifty years.  In 1970 Skateparks started popping up for newbie skateboarders and experienced skaters.  All types of skating forms started to develop.  Aggressive, Freestyle BMXers, regular and now skate scooters have become a thing.
For years the sport has had critics.  Saying things like it was a sports for slackers and hoods.  They stereotype of skaters may have had some basis for truth, but most skaters are hard working dedicated people to their sport, their culture, and their sport.
The very first skaters started their journey with boards and  wooden boxes where common roller skate wheels got attached to the boards and crates.  According to historians, the origin of Skateboarding started back in the 1940-50s in California!
Skateboarding Inventions and origin:
The accepted fact is that some surfer in California created skateboarding.  The surfers were looking for something they could do when on dry land to increase their skills on the ocean surf board.
Skateboards were adopted quickly by surfers, however nobody knows who to credit for originally coming up with the idea of skateboarding because so many people came on the scene with a similar kind of idea at the same time!

The first skateboards where sold in California in the 1960's by companies like Hobie, Keeps & Jacks, Makaha, and Bings.   Most tricks and maneuvers done by early skaters where the same ones they did on the water with surfboards.
The Culture of the Skateboarding:
Skateboarding got a huge boost in popularity back in 80's with the release of American Drama  Thrashin. Famous Skaters like Rony Alva, Tony Hawk, Christian Hosoi & others appeared in that drama.


 The movie was widely accepted among the Millions of Skateboarders around the world, and is still a cult classic today that most skateboarders have in their movie collection.
Media coverage of Skateboarding:
Back in 1964, stan Richard started to organize a television show by the names  Surf's Up to highlight Skateboarding as a sport.
This is what helped the sports to create its fanbase in the USA. Around this time Skateboarding magazine came out with their quarterly magazine called Skateboarder!!
Over time the popularity of skateboarding  led to its first-ever National Skateboarding Championships, in Anaheim, California.   It aired on ABC's Wide World of Sports, and this time they even found an official sponsors.
The emerging popularity brought Critics:
When the super hit television shows like The, What's My Line? And  Mike Douglas Show,  and even The Tonight Show, Starring Johnny Carson  started to support Skateboarding as a pure entertainment and exciting sport to participate in or even watch, some sports critics got louder in the media tagging it's a dangerous sport to play!   I wonder what these critics think about boxing, football or Mixed Matial Arts? 


"Often those that don't have the guts to do ……… criticize those that do" Atlanta Motivational Speaker Dale Calvert
The more people rejected and criticized the sport, the faster it grew.  (Haven't parents learned this by now?) Sale for many skateboard companies like Makaha boomed with industry sales of over 10 million dollars.
The Significant Upgrade of Skateboards:
Back in the early 70's Frank Nasworthy started to develop the structure of a Skateboard by replacing the Metal or clay wheel with polyurethane! That upgrade on skateboards had a superb impact on the  performance and ability to control the board.
 In 1972 the trend had officially started and countless numbers of companies started to invest in manufacturing skateboards.  Advertising space started to sell out quickly in Skateboard magazines!
Skateboard Manufacturing and Tracks to perform:
Before the Skateparks were created, skateboarders where on a constant hunt to find places to practice their tricks.  Of course parking lots and sidewalks but also creative places like water drains, empty swimming pools, and other places. 
Skateboarders started perform new tricks that were unique to skateboards and not just normal surfboard tricks.  They came up with creative names for the skateboard tricks like the Sewer Slide, the Fruit Bowl, Tea Bowl, Bird Bath, Bellagio, the Rabbit Hole, the Egg Bowl, Upland Pool, and more.  You will witness many of these tricks performed in the summer Olympics skateboarding event, I am sure.

During this time manufactures started experimenting with several kinds of creative skateboard designs with wider decks, Skinny Banana Boards, and long boards.  They also started experimenting with different type of molds and materials for the boards themselves.
This created boards that gave the skateboarder more control and fewer accidents.  Skateboarding continued to gain popularity and all the events prior, paved the way for the Skateboarding contest of 1975!
The creation of Skateparks on several Cities:
In March of 1976, Skateparks was starting  to be established in different cities primarily in California and Florida.
These Skateparks were open free to anyone in the general public.   By 1982 their was over 200 Skateparks that had been built around the world because of the ongoing popularity of the sport.
Many mufactures continue to design their boards for maximum performance. Wood boards gave way to boards made formed with different types of plastics and other more flexible materials.
Skateboarders put these new boards to the test coming up with many new tricks like frontside/backside air and slash grinds!
Skate Ramp & commercialization's:
Back in 1980, Skateboarders focused on Vert Ramp Skateboarding which played a major role in the commercialization of Skateboarding as a trend!
This time skateboarders started to perform on the air which eventually became the foundation of modern Skateboarding and on the other hand Street Skating became more and more popular each and every day.
The Tips & Tricks of Skating:
Skateparks help to mobilize and the development of so many new skateboarding tricks,  It created and environment where all skaters could hang out and experienced skateboarders can share tips and tricks with newbies.  Skateboard tricks have continued to evolve, in the early stage of the Skateboarding, there where common terms and tricks like Freestyle, Ollie, Wheelie, manual, pivot, Hippie Jump, etc.
Street skating of the early '90s:
Street Skating started to dominate the 90's era of Skateboarding culture. Boards became smaller and lighter, narrow width, and with different colors and shapes as well.
The popularity of Street Skating is one of the main reasons skateboarding became very unpopular, not only in the US but also in the entire world! Citizens were constantly complaining about gangs of skateboards who were taking over their public streets.
Modern Skateboarding & social issues:
Today, skateboarding is more popular than ever, around the world.  In the United States those under eighteen years rank skateboarding more popular than baseball.   What is that saying about baseball, apple pie, and Chevrolet?
The benefits of skateboarding are obvious.  Skater become more disciplined, punctual, healthy, confident, motivated & creative.  It is hard to find a serious skateboarder who is not in shape and who hasn't developed way above average hand and eye cordiantion.
Back in 2003, Go Skateboarding Day was founded by the  International Association of Skateboard Companies all over the world!
 That helps to promote Skateboarding all over the world and even on June 21st, it defines Skateboarding as an act of rebellious creative and independent way of living a life!
In 2009 Skatelab formed to be the Museum to preserve the legacy of the Skateboarders, with the help of  the International Association of Skateboard Companies
Name of some world-famous Skateboarders & their functions on society:
Tony Hawk
Rodney Mullen
Ryan Sheckler
Bam Margera
Tony Alva
Eric Koston
Danny way
Jay Adams
Chris Cole
Christian Hosoi
Anthony F. Hawk, known as Birdman too, stuntman, actor and the owner of his skateboard company Birdhouse. A US origin professional skateboarder Released a superb video game series, what ultimately the pioneers of modern vertical skateboarding.
Rodney Mullen:
John R. Mullen, a US origin professional skateboarder. John is also  an Inventor, Entrepreneur, and public speaker
Ryan Sheckler:
Ryan A. Sheckler, is an entrepreneur. USA origin professional skateboarder, even a star of the reality series Life of Ryan.  Ryan enlisted himself as in the Fox's Weekly 15 Most Influential Skateboarders of All-Timeas well.
Bam Margera:
Brandon C. Bam Margera, a US origin stunt artist, filmmaker, musician, professional skateboarder, & a star on MTV reality stunt show Jackass.
Tony Alva:
Tony Alva, entrepreneur, musician, American skateboarder.  A key player of vertical skateboarding and one of the founding members of the Zephyr Competition Skateboarding Team, Z-Boys.
Eric Koston:
Eric Koston, Entrepreneur, an American professional skateboarder. Featured in the Tony Hawk's video game series, and Electronic Arts video games Skate 2 and 3.
Danny Way:
Daniel Way, entrepreneur and an American professional skateboarder, who was awarded by the  Thrasher magazine's Skater of the Year Twice!
Jay Adams:
Jay J. Adams, who was the youngest member of the Zephyr Competition Skateboarding Team when he was just a Teen.
Chris Cole:
 A highly, commercially successful person as a Skateboarder, because his sponsors were: Fallen Footwear, Cult Crew, Monster Energy, Bones Gearings, Thunder, Spitfire, GoPro, and other successful companies.
Christian Hosoi:
Also known as Christ & Holmes, came from a Japanese family but grew up in LA and Hawaii.
Skateboarding Gear:
Skate shoes are really important gear for scateboarders! But the early Skateboarders who came from the surfing backgrounds rode barefoot. And there are some Skateboarders still do prefer to ride the board without shoes.  (obviously, not too many)
Back in 80's Van's shoe played a vital role to be as a Skateboarding shoe of choice for skateboarders.   Vans became known for helping  to reduce foot and ankle injuries. Van's shoes even sponsored  the Skateboarding documentary Dogtown and Z Boys.
Other show companies followed Vans lead such as Converse, Adidas, Nike, Globe, Zoo York, and many more.  Different skateboarders prefer different shoes. Many of the skateboarders of today have big brand deals with various companies.  Most purist still prefer Vans and many who may not wear them still have a collection of Vans in their closet.

It will be interesting to observe the shoes different skateboarder will be wearing during the Olympics.
Skateboard Deck:
It depends on the personal choices of each Skateboarders.  Some have boards full of sponsors decals and logoss.   Others don't mess or care with the look of the board as much as the performance
In modern days so Skateboarders have original graphics & piece of art done for their bords by professional graphic artist. In the very beginning of the era Skateboarders used to draw the design on their wood boards themselves!
Skateboard Wax:
Skateboarding wax is made from paraffin-based tools, it helps to reduce the frictions when you slide it down and Grind. Rails, Curbs, or any hard surfaces.
 Naturally, slides and grinds create frictions, which helped to slow down the speed of the trajectory, by making it more difficult to executes on a ride. It will be interesting to see if the Olympics allow skaters to use their preferred brand of wax. 
Safety:
A focus on safety is one of the reasons the sport has grown so quickly.  Safety comes first, so, Skateboarders love to use small wheels inline Skates, helmets, pads, and the right shoes help skaters stay save.
Every serious skater is going to have Cuts. Scrapes. Ankle twists, Sprains at some point.  Come to think of it, most kids, skaters or not will as well.   These normal, minor injuries all kids experience,  are the most common types of Skateboard injuries skateboarders deal with.
What are skateboards used for besides sport?


Military Services:
US Marines use skateboards for petrol even for their Combat Military exercises. Especially in geographical areas where snows falls.  They have skateboards that can be converted and used on snow.  
Transportations:
Transportation is common use of a Skateboards in some parts of the world.  Of course local laws are different everywhere.  Skateboards offer and  alternative way of transportation to  automobiles and of course the exercise and Environmental benefits are obvious.
Skateboarding at the 2020 Summer Olympics, Tokyo, Japan:
Skateboarding is going to be debuted in the 2020 Olympics. We all have the opportunity to watch a monumental historic moment together for the first time!


Millions of Skateboard lovers believe this Olympic inclusion, will pave the way for worldwide success, acceptance, for skateboarding to become a  mainstream sport!
What Olympic Skateboarding Events will be held?
There's no doubt that we are going to watch Park and Street Skateboarding during the upcoming Olympics.
Park Skateboarding consists of complex turns and Twist with the Vertical on the top! They are also expected to include Dizzying Height, Jaw-Dropping spins, Mid-Air tricks, in the familiar bowl environment many competitions are held.
The Street Skateboarding will be expected to do a straight course, Hand drills, Stairs, Wall, Benches, and Slops, etc. where skaters can show off their skills.
Current Index for Skateboarding in the Tokyo
There will be 40 Quota for the women Skateboarders and 40 Quota for the men, 80 in total and 20
Skaters for both Genders perform on Street and Park Skateboarding.
Every National Olympic Committee (NOC), the governing body for every country's Olympic associates are allowed 6 men and 6 women for skateboarding, but not more than 3 athletes per gender and per event as well. 
Qualifications are arranged by the World Skates, the international governing body for the roller sports. 
Like, other Olympic sports, skateboarders must comply with the Olympic Charters to get eligible. The qualifying way for each event 20 athletes as follows: 
3 athletes will directly qualify as the highest-ranked skaters of the 2020 Seasons of World Skateboarding Championship events.
16 athletes will qualify through our Olympic World Skateboarding Rankings (OWSR) as of June 1st June 2020.
Only one athlete will qualify as in the host nation's slot. This person will be elected by the highest-ranked skater in the host nation; like Japan.
There will be 16 available slots via the OWSR, but not a single nation can be filled not more than 3.
 the UK may have 5 skaters in the upmost top 16 but only the top 3 three of the top 5 will qualify.
From July 24th – Aug. 9th  skateboarders will compete in Tokyo city at  Aomi Urban Sports Venue.
 skateboarders are free to choose courses to tackle and tricks to perform. the performance can depend hugely on the speed. Judges will monitor all the overall flows like: time consistency etc. Music will contribute to add vibe and youth-focused atmospheres out in the middle of the Skatepark.
TEAM AMERICA'S SWEET SIXTEEN: THE 2020 OLYMPICS SKATEBOARDERS HAVE BEEN ANNOUNCED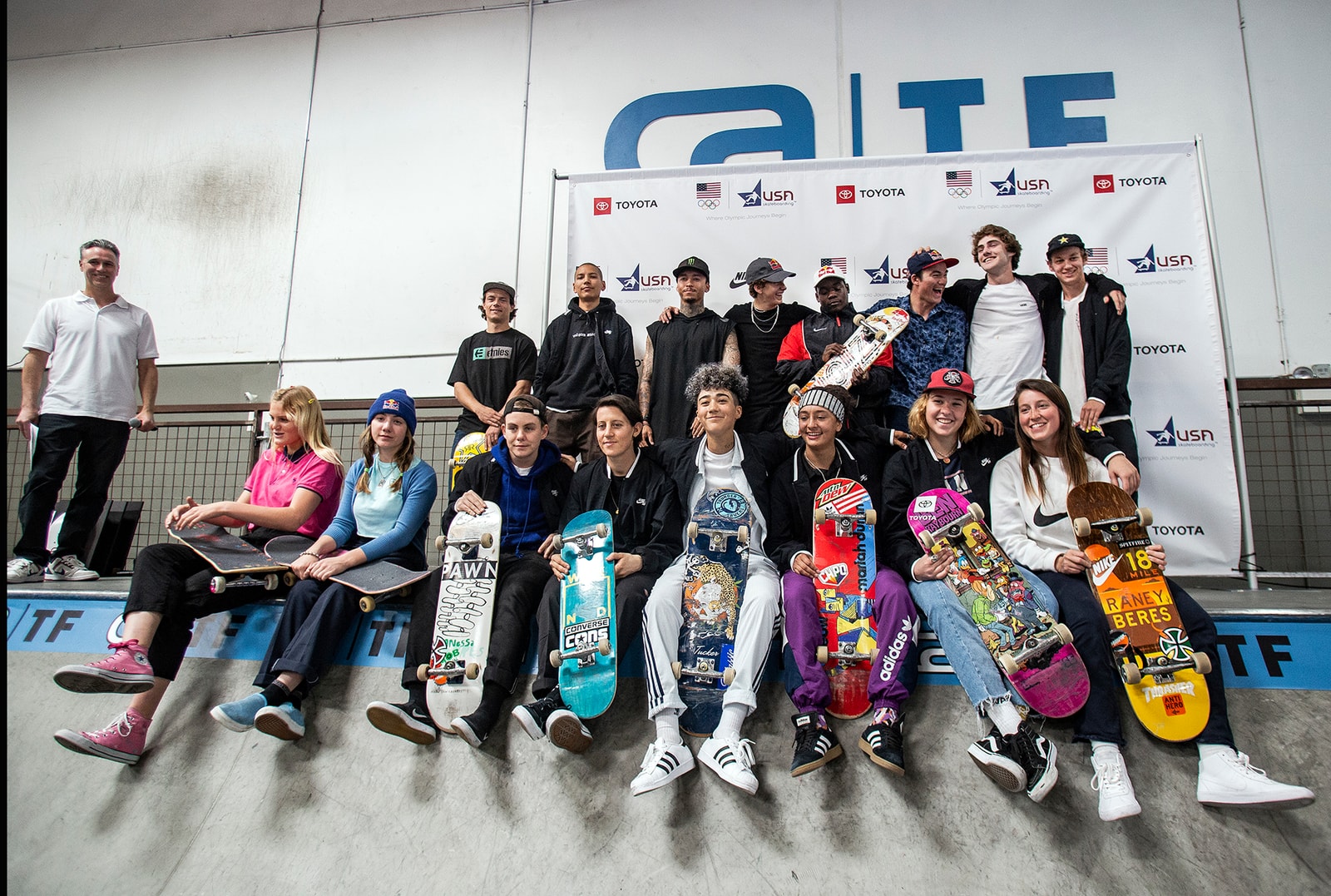 The USA sweet sixteen scatebaord Team for Tokyo
"Can we get all the skateboarders to stop skateboarding for a minute?"
So began the announcement of the first USA Skateboarding Olympics Team at California Skatepark's Training Facility in Vista, California today. Josh Friedberg, USA Skateboarding's CEO, was on the mic introducing 16 skaters who will make history at the Tokyo 2020 Olympic Games.
Alluding to "politics and nonsense," Friedberg gave the crowd on the CA Skateparks street course a little background on the journey to the Olympics, a "long, long journey that started way back in 2003."
Joined on the quarterpipe deck by USA Skateboarding's Chairman Gary Ream (who said that this is "the happiest moment in skateboarding"), Friedberg highlighted the importance of this occasion: "The only thing greater than this moment is the emotion we're all gonna feel [in 2020]."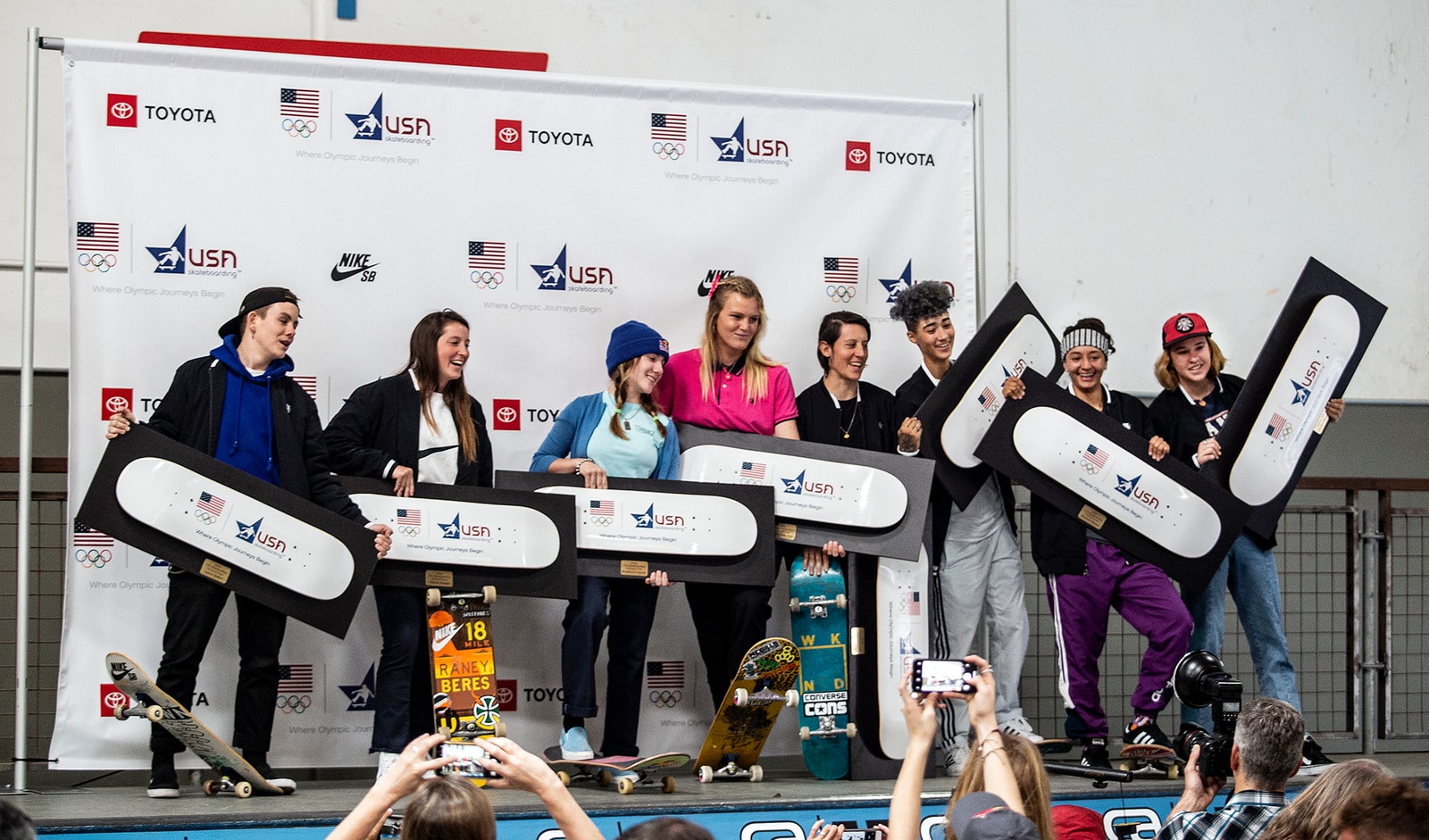 The Women's squad. So weird seeing a WKND deck in the Olympics!
With that, Friedberg announced, one by one, the Women's Park and Street competitors. Park: Jordyn Barratt, Bryce Wettstein, Brighton Zeuner, and Nicole Hause. And Street: Mariah Duran, Jenn Soto, Alexis Sablone, and Lacey Baker.
Next, the Men's riders (also known as "the Dudes"). Street: Louie Lopez, Jagger Eaton, Chris Joslin, and Nyjah Huston. And Park: Alex Sorgente, Tristan Rennie, Tom Schaar, and Zion Wright.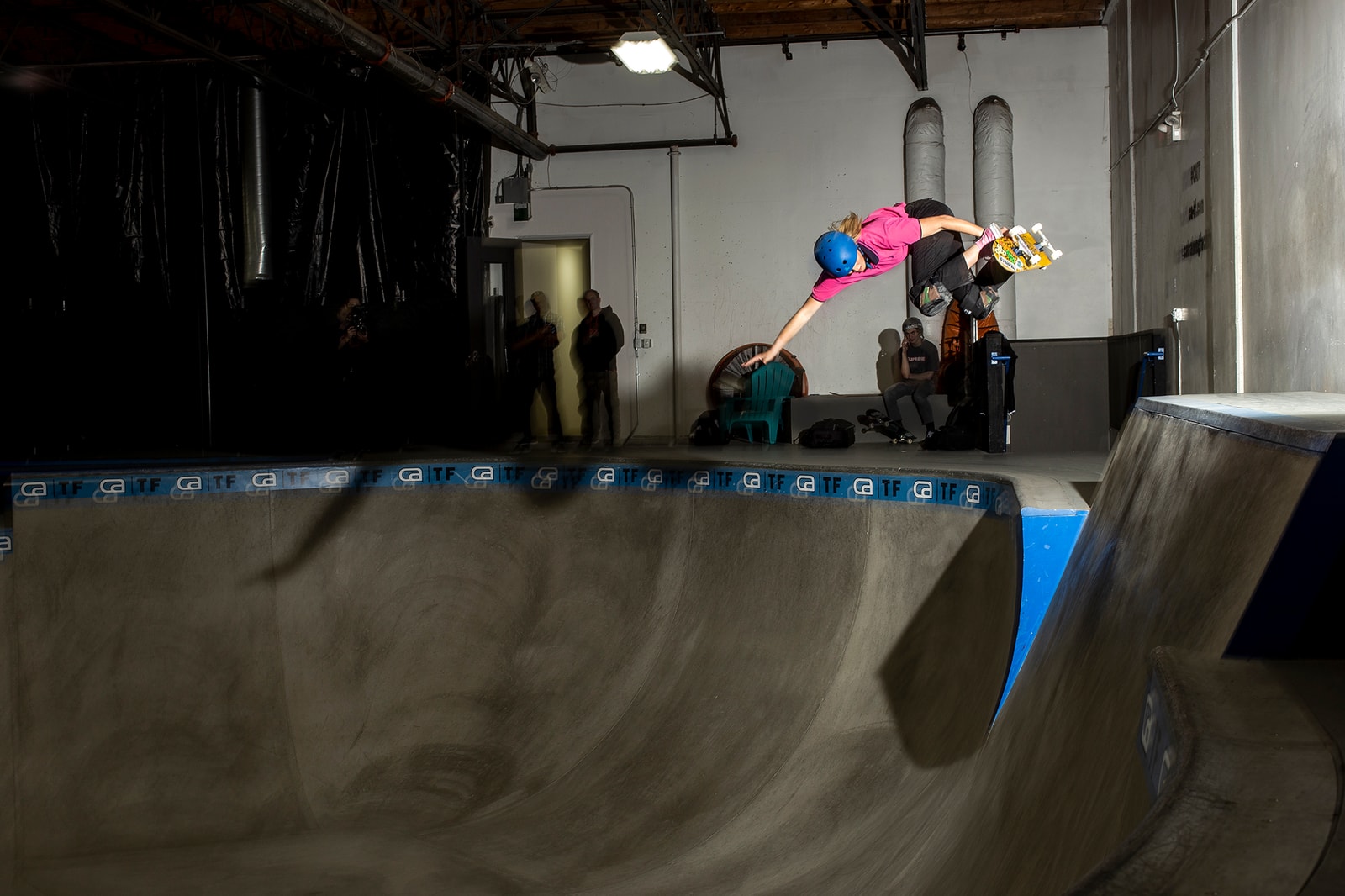 Bryce Wettstein, backside air.
Each rider was given a commemorative plaque with a USA Skateboarding deck mounted to it. Friedberg mentioned, after Team America was revealed, that each rider was chosen based on their performances during 2018 contest Finals. He also underlined the upgraded stakes for future contest seasons by adding that in the past, qualifying for the Olympics just wasn't even a consideration, "but it will be for future generations."
Friedberg capped off the milestone press conference by saying, "Thank you skateboarding."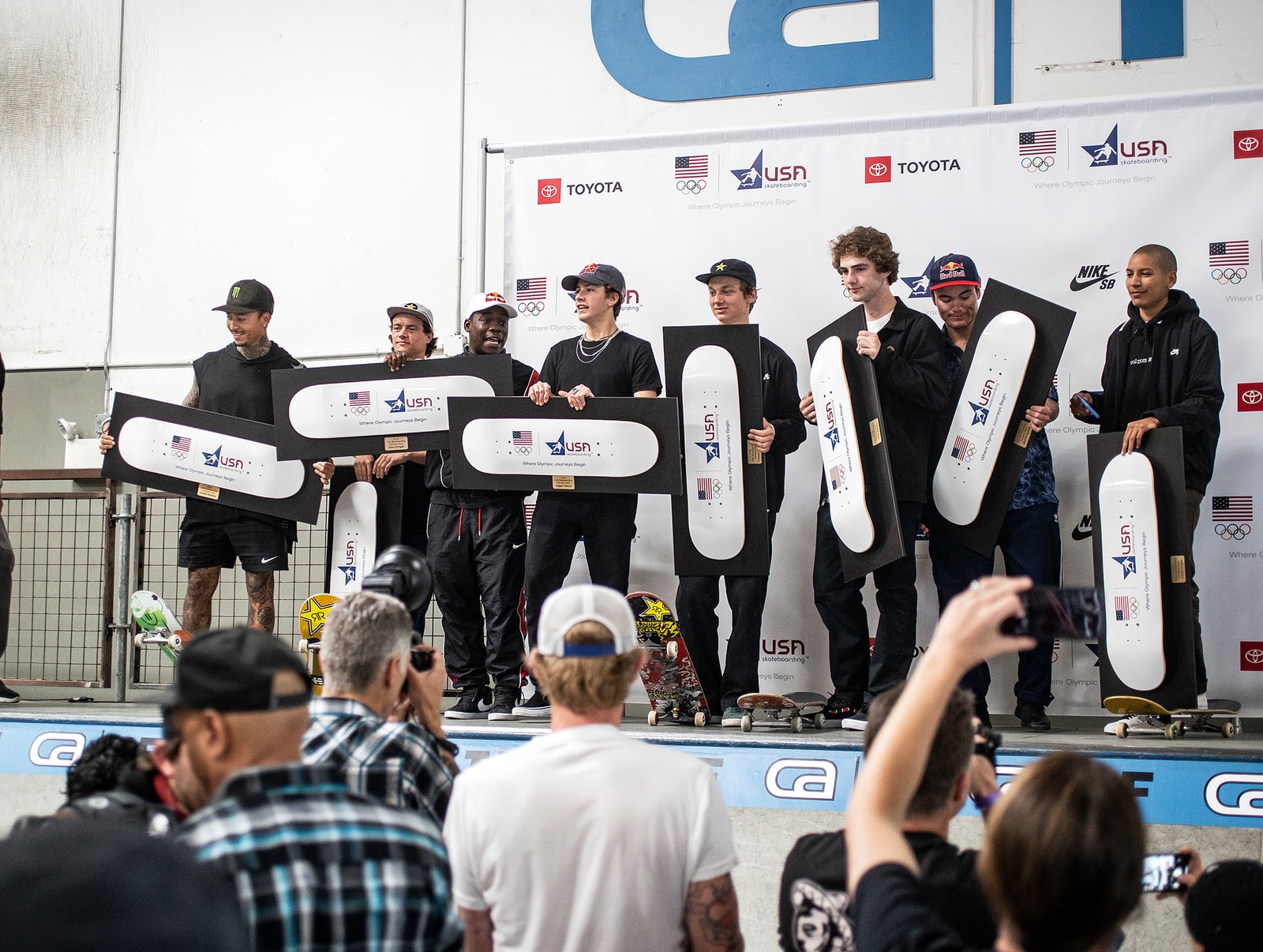 The Men's squad.
The Berrics began reporting on the Olympics in August 2016, when skateboarding was initially voted for inclusion in the world's foremost sports event. During the 4-year window, the concept of skate in the Olympics has proved has persisted as somewhat abstract for some. How will this change skating? Is it really that important? Are there, like, uniforms?
Inevitably, skaters chose sides regarding the Olympics; whether you're for or against it, the sheer unprecedented exposure will mark a major shift. The audience for the Tokyo 2020 Olympics is projected to be 5 billion viewers—that's 10 billion eyeballs, give or take.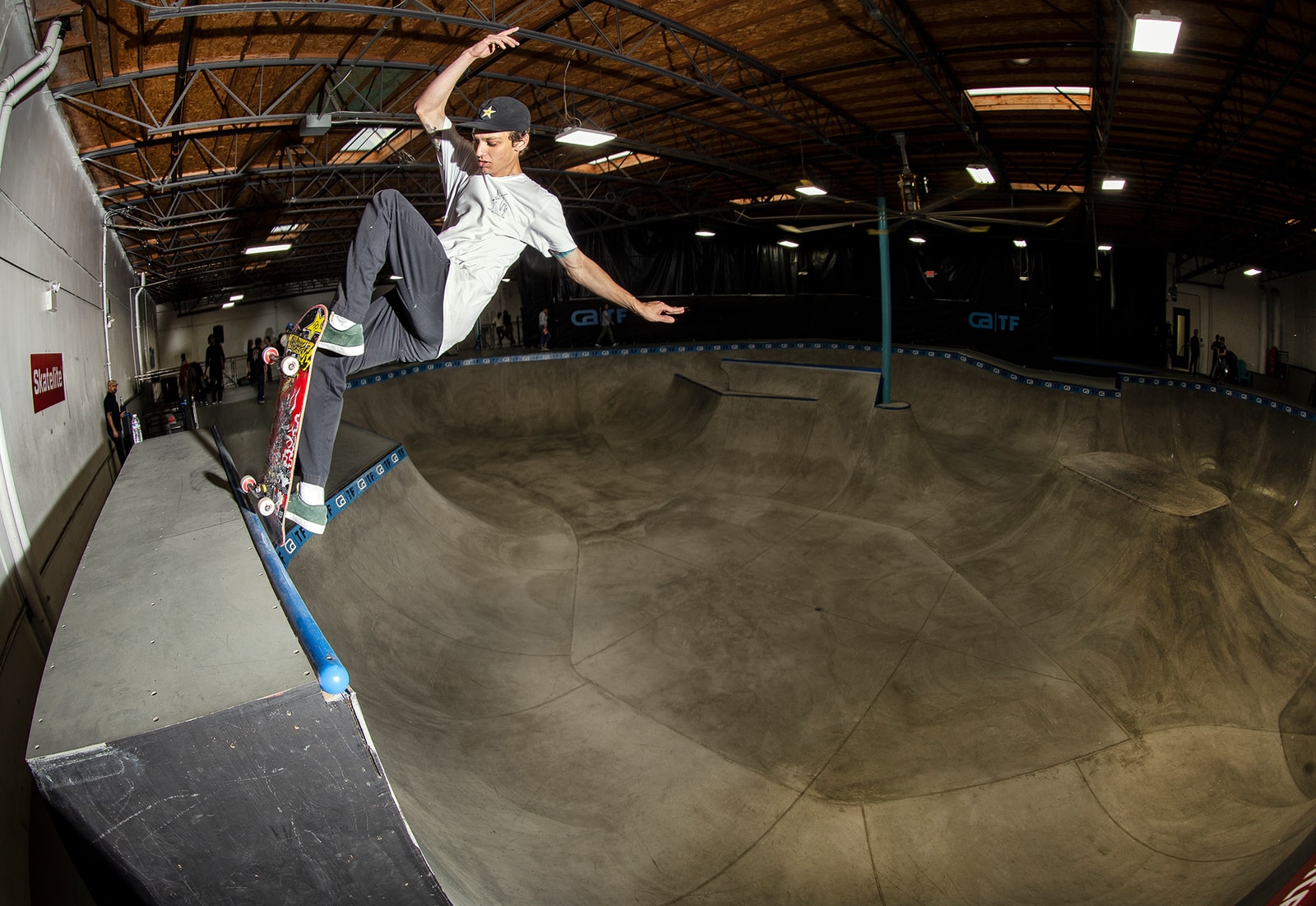 Tristan Rennie, frontside blunt.
The official sponsors of USA Skateboarding are Toyota and Nike. Read our interview with Josh Friedberg for more information about the Olympics planning process.
Stay tuned to The Berrics for more coverage of USA Skateboarding's Olympics journey.
Are One Wheel's the Future of Skateboarding?
Click Here to Check out the One Wheel on Amazon